The McHugh family in 1966 began assisting heritage railroads, rail transportation museums, and trolley preservation groups, with on-site services of re-railing wrecks, transporting historical railway equipment by truck, rigging and crane service. Then in 1973 the McHugh family began rebuilding locomotives and equipment for heritage railroads, short lines, and in-plant industrial railroads.
McHugh Locomotive & Equipment continues with those services and also has the capabilities to provide your association with on-site service anywhere within the USA. This work can range from: general locomotive and equipment inspections to major repairs, or to assist with the load out and transportation of equipment to our facility for a complete museum quality restoration. We can also supply new or reconditioned mechanical parts, traction equipment and components for vintage and historical diesel locomotives.
West Chester Railroad a heritage tourist rail line with "big EMD & ALCO motive power" has selected the McHugh Company to be their locomotive repair source to assist them with major restoration work.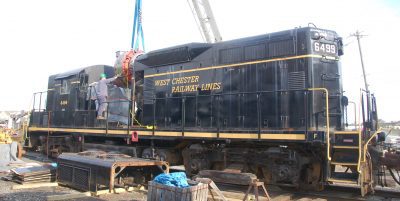 The West Chester Railroads 1950's built EMD GP-9 a former Baltimore & Ohio RR locomotive #6499 during the year of 2015 suffered a failure to the main generator with alternator assembly. The restoration work to the #6499 was necessary to be done on-site at the land locked WC RR. This work included replacing: the main generator with alternator assembly, the two old engine blower assemblies, the auxiliary generator, electrical repairs, plus to also make some steel repairs to the engine hood and cab roof.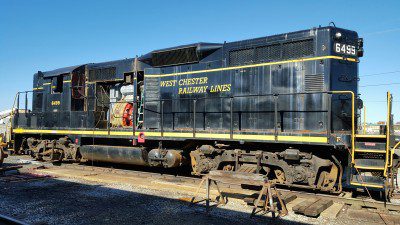 The West Chester Railroad offers tourist train rides on a scenic 90 minute round trip through Chester County. Vintage trains depart from the town of West Chester, PA. The historic right-of-way is a former Pennsylvania Railroad branch line, and you will travel 8 miles to the Glen Mills station. The train has a 20 minute layover stop there. The all volunteer WCRR also offers several specially themed trains and Christmas trains during the operating season. If you would like to visit the West Chester Railroad, more information can be viewed at their website: westchesterr.com
Georgetown Loop Railroad / History Colorado operated by: Historic Rail Adventures LLC in 2013 selected McHugh Locomotive & Equipment to become one of their valued parts suppliers and contractors to provide technical assistance with the lines vintage diesel locomotives.
The Georgetown Loop RR previously had other vendors preforming their diesel locomotive traction equipment repairs. However the Colorado heritage railroad was not satisfied with the quality of those firms products and services. McHugh Locomotive & Equipment during 2013 was contracted to re-manufacture several pieces of rare Westinghouse 928-A several traction motors to O.E. M. specifications that also include manufacturing and supplying 6 new pinion gears. These traction motors where required for a rare vintage 1950's built 3′ narrow gauge Porter diesel locomotive that also was equipped with obsolete style Westinghouse electrical equipment.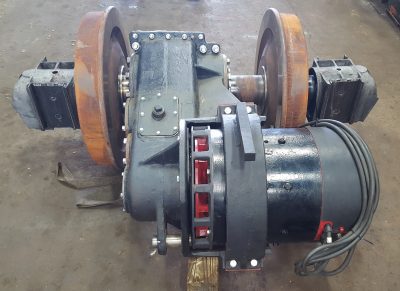 The world class quality of our workmanship on those first products delivered to the Georgetown Loop RR has led to McHugh Locomotive & Equipment becoming a very valued supplier to assist in maintaining their vintage diesel locomotive fleet.
Since 2013, we have repaired several pieces of rare traction equipment for the 3 foot narrow gauge heritage railroad. This includes: GE 762 traction motors, WH 1443A traction motors, GE 733 traction motors, GE 1503 main generators. We have also assist the historic 1884 built railroad with on-site technical support and service in Colorado when it is required on their vintage diesel locomotives.
West Chester Railroad a heritage tourist rail line with "big EMD & ALCO motive power" has selected the McHugh Company to assist them with on-site service and repairs.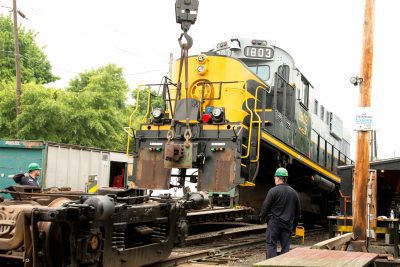 The WC RR's rare ALCO #1803 had a failure to one of the obsolete style oil bath SKF bearing on an axle assembly. The McHugh Company manufactured a new replacement axle that would now have AP class F type roller bearings. We then removed the two good used wheels and bull bear from the failed axle assembly, these parts where checked for defects. The qualified wheels and bull gear where then installed onto the replacement axle. The wheels where re-profiled to FRA/AAR standards providing the WC RR a considerable amount of cost savings. The old style oil type boxes where converted to accept the AP class F type roller bearings.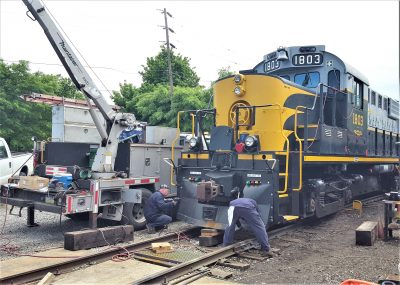 The truck assembly while it was at the McHugh facility in Fairless Hills, PA also received various other necessary repairs that where required. When the unit was completed, it then was placed onto a McHugh Company tractor trailer and delivered to the rail yard in West Chester, PA. Here we supplied a crane again to lift the locomotive and then installed the repaired truck assembly back under the #1803.
The rare ALCO RS-18 locomotive is a favorite of the WC RR and it was placed back into service during the 2017 operating season. The West Chester Railroad is operated by a all volunteer membership and is a 501-C3 non-profit corporation. 
Black River Railroad Historical Trust selected McHugh Locomotive & Equipment as their qualified locomotive service contractor to have the heritage rail lines #438 diesel locomotive ready to provide motive power for the 2016 tourist train season.

The 501-C3 non-profit corporation Black River Railroad Historical Trust contracted McHugh Locomotive & Equipment to provide repairs to its #438 EMD SW-9 diesel locomotive. The locomotive previously was owned by the United Railroad Historical Society of NJ, who leased it to a New Jersey short line freight operation for a period of approximately 10 years. When the #438 arrived at its new home in Ringoes, NJ at the BRRHT there were several issues with the locomotive that kept it from operating.
The BRRHT volunteer staff preformed a visual inspection of the locomotive, and this unfortunately lead to the discovery of several mechanical defects with its prime mover and other operating components. After these defects were found, the BRRHT decided they required the expertise of a professional locomotive repair service company and they contracted McHugh Locomotive & Equipment to make a complete inspection of the 438's prime mover and operating components.
During the inspection by the McHugh service team, we detected several critical mechanical defects that could cause catastrophic engine failure if these items were not repaired correctly. The engine had been operated with the lubricating oil being diluted by fuel oil leaking into it from defective injectors, and defective fuel cross over delivery lines. There were also several of the front 6 power assemblies leaking water into the crankcase. Another issue was that numerous external water leaks where detected and the bottom of the lubricating oil cooling tank was leaking water due to it being rotted out.
The BRRHT approved the work to remove the front 6 power assemblies to investigate the water leakage on those units. The locomotive has a "B" type engine block and unforentally the power assemblies where previously replaced by another source improperly without having the proper lower "o-ring" seal being installed on the heads. This caused the water to leak into the engine crankcase and lube oil system. The work on #438 consisted of making the necessary corrective repairs to the prime mover, that included installing the proper "B" style head "o-ring" seals and fire rings on the 6 front power assemblies. McHugh Locomotive & Equipment had the SW1200hp EMD locomotive #438 repaired and back into service on time as scheduled to provide motive power for the BRRHT tourist trains in late May 2016.
McHugh Locomotive & Equipment over the years assisted the Kovalchick Corporation at several of its industrial operations including the historic East Broad Top 3 foot narrow gauge railroad.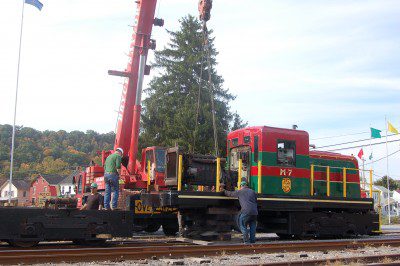 McHugh Locomotive & Equipment over the decades has assisted the historic East Broad Top RR with many repair projects. The various diesel locomotive services have consisted of replacement: traction motors, main generators, traction drive gear boxes, along with truck assembly repairs, and Detroit Diesel engine repairs.
McHugh locomotive & Equipment has also assisted the Kovalchick Corporation with parts and on-site service at their other businesses where they operate locomotive cranes and industrial type locomotives.