McHugh Locomotive & Equipment specializes in assisting short line railroads, regional railroads, and industrial plants with rail operations with any type of locomotive service or repairs. 
We understand the importance of minimizing downtime and our service team can provide emergency service or plan around your work schedule. Electrical components or mechanical parts found to be defective during periodic inspections and beyond on-site repair are normally in stock to get your locomotive back in service.
We offer preventative maintenance and certified FRA inspection programs.
We minimize downtime and get your locomotives running. 
Our service technicians can quickly diagnose electrical and mechanical problems.
Replacement of everything from the smallest parts to main generators, air compressors, or entire power plants.
We can safely and efficiently replace individual EMD power assemblies in 6, 8, 12, or 16-cylinder engines.
On-site wheel turning service can re-profile and eliminate flat spots on your locomotive wheels.
Our service technicians are experienced in using cranes or side-boom equipment to safely handle all types of projects.
On-site locomotive truck assembly, wheel axle set, and traction motor, change outs.
We routinely change out smaller diesel engines found in industrial locomotives.
We can upgrade current EMD 645-E engines to meet EPA Tier 0+ emission standards at your location.
Installation of idle reduction systems – HOTSTART or equivalent 
Emergency service is no problem.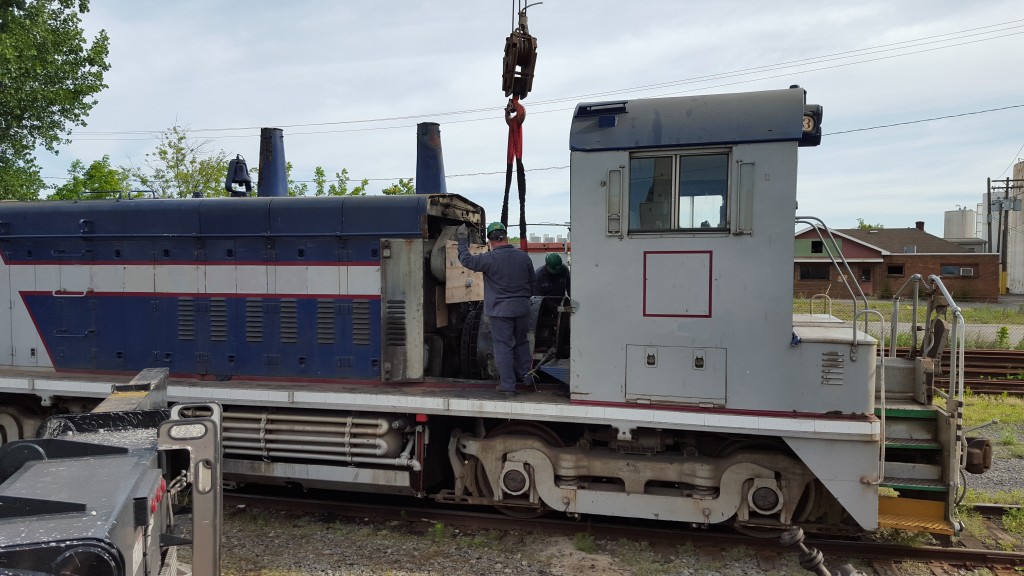 A failed D-15-C main generator is being replaced on a EMD SW1200 locomotive for a switching railroad located in New York.