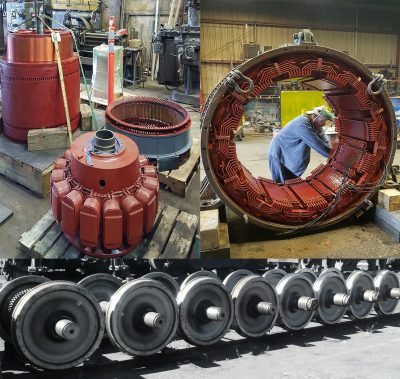 McHugh Locomotive & Equipment is your single source for new and remanufactured locomotive parts. Our large in-stock inventory allows us to ship materials directly to you when they are ordered. Specialty items can be custom manufactured and shipped as soon as they are completed.
Main & Auxiliary Generators
Traction Motors
Wheel / Axle Combos
Electrical Components
Load Regulators
Traction Drive Gear Boxes
Mechanical Components & Parts
Locomotive Truck Assemblies
Engines – EMD & Small Industrial Type
EMD Power Assemblies – Full & Mini Pack
Gear Case covers – Lower & Upper
EMD Engine – Water Pumps
We inventory many wheelset and truck assemblies including:
AAR switcher truck assemblies
Flex-coil truck assemblies
Blomberg truck assemblies
GE truck assemblies for 45-ton side rod switchers
GE truck assemblies for 45/50-ton chain drive switchers
GE truck assemblies for 65/80 ton, & 100/120-ton switchers
For our customers operating older equipment, we supply qualified reconditioned parts and assemblies. We can also custom manufacture parts when needed and have extensive experience with upgrading older equipment to accept currently available parts. Our unit exchange program on most items which will provide you with a cost savings over a outright purchase.