McHugh Railroad Maintenance Equipment, Inc. – d/b/a McHugh Locomotive and Equipment.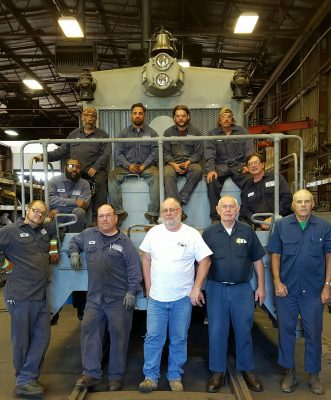 McHugh Railroad Maintenance Equipment, Inc. was incorporated in November 1985 with the philosophy of being committed to building relationships with our customers on trust, integrity, and to provide the correct solutions to their equipment challenges. It has always been the goal of McHugh Locomotive & Equipment to provide expert service and high quality parts, at competitive pricing for motive power and railroad equipment. The McHugh Company under the leadership of JC McHugh has continued to grow, expanding its product lines and services.
Over the past 35 years we have delivered our high-quality products and services to class I railroads, short lines, regional rail, industries that operate in-plant rail operations, and heritage rail lines that are very satisfied with the McHugh Company. Our staff is made up of a diverse, qualified, and dedicated team that works in a professional and safe manner, continually meeting and exceeding our customers expectations. The McHugh Locomotive & Equipment team takes great pride in our business as being a source that you can depend on.
The innovative thinking of the team members here at "Can Do McHugh" continue to provide successful solutions of equipment and operational challenges to the industries that we serve.
McHugh Locomotive & Equipment over the years has continued to provide many specialized services for our customers. We have become known in the industry as a company that you can depend on to provide successful solutions for those unique equipment demands and operational challenges, along with taking care of those "one-of-a-kind" projects.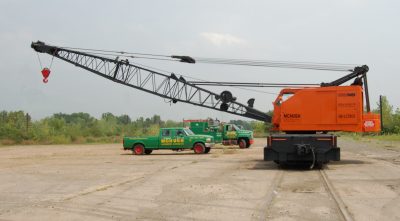 Back in 1986, a global steel manufacturer and a class I railroad and asked JC McHugh if the McHugh Company could provide repair services, supply rebuilt parts, and to rebuild complete machines for those firms American locomotive cranes. We investigated the market and confirmed that there was a need in the industry for a qualified company to fulfill that demand at competitive prices. McHugh Locomotive & Equipment since that time has rebuilt many American locomotive cranes, and also provided on-site repair services or supplied rebuilt parts to a host of customers.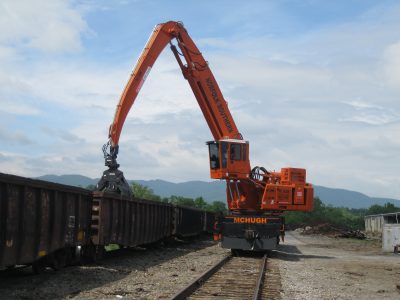 During the late 1980's when several industries that were using cable operated lattice boom type locomotive cranes began to search for a supplier that could offer to upgrade their equipment and meet their new operational requirements. McHugh Locomotive & Equipment met this challenge and partnered with an equipment manufacture to develop a new machine to meet the industries demands. Our staff work with the engineering department at Barko Hydraulics LLC  and together we jointly developed a specialized hydraulic knuckle boom material handler that operated on railroad track. The Barko / McHugh machines were introduced in 1989 and have been successfully operating at industries with rail operations such as steel mills and scrap recycling yards.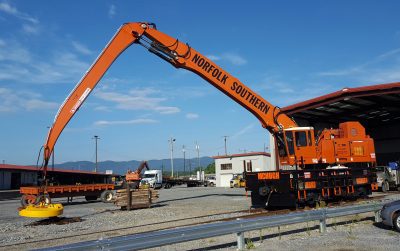 In 2012, a class I railroad, Norfolk Southern, approached McHugh Locomotive & Equipment to see if we could supply a hydraulic knuckle boom material handling machine with a self-elevating operators cab that was specifically designed so that the unit could be operated over its entire rail system. The new prototype Barko model 695 epic railroad material handling machine was introduced and delivered in May 2013. Due to the great success of the Barko model 695 epic railroad machine, Norfolk Southern ordered a second unit and that machine was delivered in July 2015.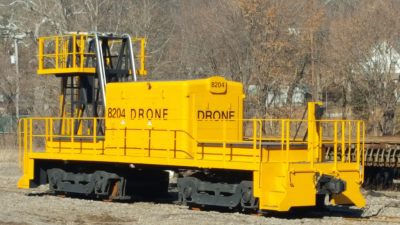 The global steel manufacturing company ArcelorMittal contracted McHugh Locomotive & Equipment to assist them with the complete rebuilding of their remote controlled electric locomotives for their Coatesville, PA USA plant. The first locomotive #8204 was delivered in January 2018, and the second locomotive 8205 was delivered in March 2020. These unique locomotives utilize EMD switcher locomotive frames and utilize EMD switcher truck assemblies with 6-1/2″ x 12″ roller bearing axles wheel sets and D-77 traction motors.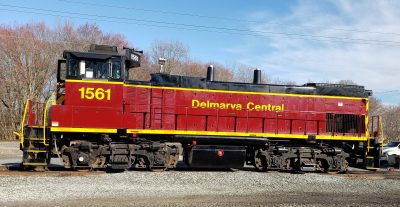 McHugh Locomotive & Equipment / MRME, Inc. in January 2020 began to work with a regional railroad on the upgrading to some of their EMD MP15 locomotives with new power assemblies and components to have the units 645-E engines meet EPA Tier 0+ emissions standards. We also continue to be busy at our facility performing various restoration projects for several heritage railroads, along with providing all types of on-site repairs and services for short line railroads, regional railroads, and industrial rail operations.   
Hands on Experience and knowledge of the industries that we serve.
JC McHugh, CEO & president of McHugh Locomotive & Equipment had the unique opportunity of growing up in a family who operated a business that covered so many different industries. This enabled him to learn the intricacies of those industries at a very young age. Please view our history page to learn about the McHugh family former businesses of: Crane, Rigging, Heavy Haul, & Railroad.
Railroad Industry: in 1979 JC McHugh became qualified to work on and lead a team of machinist, and other craftsmen to rebuild locomotives, rail cranes, and other railroad related equipment. Their extensive overhauls included the upgrading of the units to the safety standards, set forth by OSHA, the Federal Railroad Administration, and the Association of American Railroads. JC has also operated many various types of locomotives and other railroad related equipment at the McHugh facilities or at class I & regional railroads, short lines, transit systems, and industrial plant rail operations.
Heavy Hauling / Rigging / Crane Industry: Since 1979 JC has worked as a heavy haul truck driver and operating engineer. He has driven specialized heavy haul tractor trailers with loads weighing up to 250 ton and operated cranes with a 225 ton lift capacity. JC has been involved with many critical rigging and crane lifts. Some of those special multi crane lifts include the hoisting of derailed 450 ton railroad cars full hot molten steel at the former US Steel Fairless Works and to place them back onto the track.
The McHugh's have a long history of supporting various preservation operations that continue the heritage of America's rail transportation industry.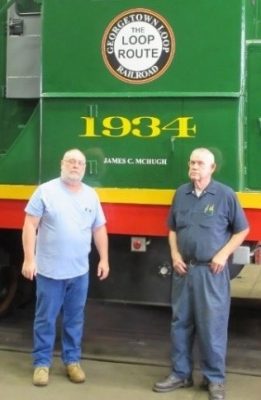 In the 1960s Jimmy McHugh began assisting several heritage railroads and trolley museums with donations of cranes use, rigging, and hauling of historical rail equipment. Jimmy continued to support various historical railway organizations until his death on November 27, 2019.
Since 1979 JC McHugh has continued the McHugh's tradition of providing donations to heritage railroads and rail transportation museums. These donations of materials and services have assisted in saving numerous vintage standard and narrow gauge diesel locomotives from the scrapers torch.
The Georgetown Loop RR in recognition of Jimmy and JC providing donations on several projects, bestowed the McHugh's with an honor that they are very proud of. The lines new diesel electric locomotive was given the number 1934, James C. "Jimmy" McHugh's birth year and it also has his name on the cab as a tribute to the McHugh's. The #1934 was delivered to Silver Plume CO on September 10, 2017.