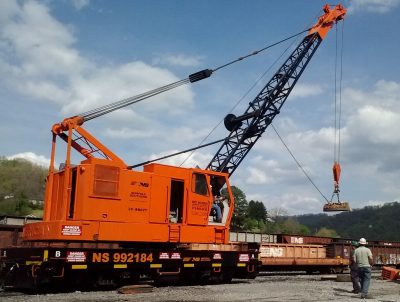 McHugh Locomotive & Equipment can supply traction equipment and truck assemblies for model: 825, 830, 5030, 840, 7040, 855, American Locomotive cranes.
We stock the following components and they are offered on a unit exchange basis or out right sale.
Traction Main Generators, GE 1503, GE1519, & WH 189.
Traction Motors, GE 733, GE 763, GE 1244, & WH 1443.
Travel Transmission Gear Box, set up for GE or WH traction motors.
Truck Assemblies.
We offer reconditioned roller bearing trucks assemblies that have new wheels, complete with traction motors and transmission gear box, for outright sale or on a unit exchange basis. We can also accept your old worn out friction bearing trucks assemblies as trade-in cores on unit exchange sales.