History Colorado's / Georgetown Loop Railroad operated by:  Historic Rail Adventures LLC contracts McHugh Locomotive & Equipment to rebuild a very unique diesel electric locomotive.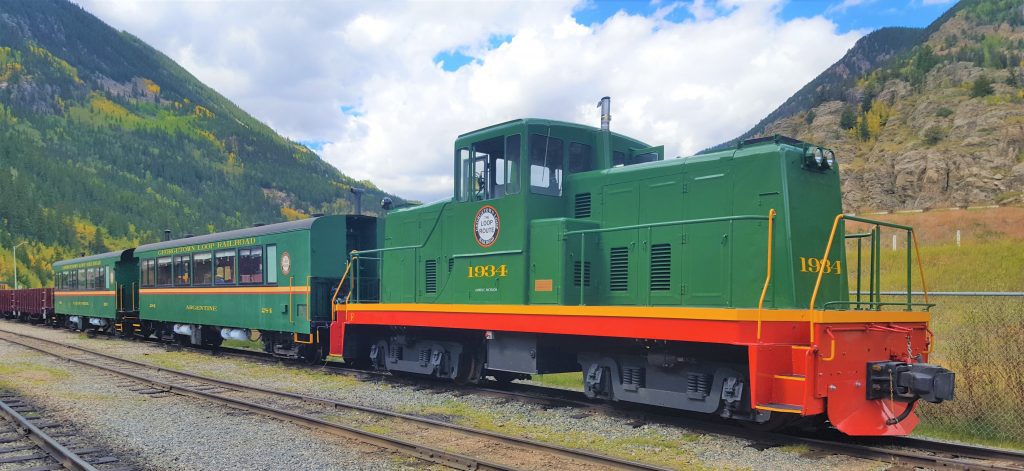 The historic Colorado 1884 railroad operates over 3-foot gauge tracks between Georgetown and Silver Plume. Even though the two historic towns are only 2 miles apart, the railroad loops around the sides of the mountains and crosses over Clear Creek four times while climbing a grueling 4 percent grade during the 3.1 mile journey. 
The Georgetown Loop RR contracted the McHugh Company to rebuild a 1951 GE center-cab diesel-electric locomotive. The unit's two Cummins 855 turbo-charged diesel engines where remanufactured to provide the essential horsepower required to operate at the high altitude of 9,116 feet. The traction system's two main generators and four traction motors where also rebuild. The complete electrical system was upgraded with all new wiring and modern electrical components. The mechanical parts and components where either rebuilt or replaced with new materials. The 3-foot gauge truck assemblies were converted from friction bearings to roller bearings with new wheels supplied. The special triple gear reduction drive gear boxes where also upgraded and rebuilt.
The McHugh Company was also contracted by the Georgetown Loop RR to provide transportation of the #1934 locomotive from our facility in Fairless Hills, PA to Colorado and to assist their staff  with assembly of the 1934 at its new home.
This very unique 3-foot gauge diesel electric locomotive supplied by McHugh Locomotive & Equipment has proven to be a very efficient and reliable source of motive power for the Georgetown Loop Railroad.  This historic railroad now has the opportunity to operate private charter and various specialty themed trains which was not practical before the arrival of #1934. Additionally, the Georgetown Loop Railroad was able to extend it season by operating diesel-powered trains in April and Christmas Holiday trains in November and December.
The #1934 arrived at the Georgetown Loop RR on September 10, 2017 and was placed into service on September 13, 2017. Today, McHugh Locomotive & Equipment continues to support the Georgetown Loop Railroad as needed. If you would like to visit History Colorado's scenic tourist rail line more information can be viewed at: GeorgetownLoopRR.com 
[srs_total_pageViews]