McHugh Locomotive & Equipment is the reliable and knowledgeable industry source that any heritage railroad, non-profit railway organization or museum, amusement park rail operation, and private collectors can count on for assistance with 3-foot gauge locomotives.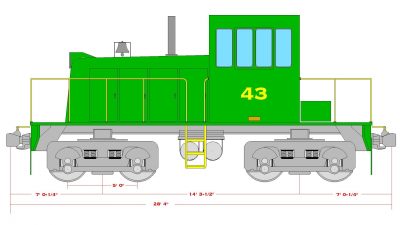 We provide complete restorations to the various manufacturers vintage 3-foot gauge locomotive powered by gasoline or diesel engines with electric traction or mechanical drive systems. We also offer on-site services for consulting, routine service, emergency repairs at your location.
Our company will provide you with a detailed work scope and a payment contract that will uniquely fit each customer's very different budgetary requirements. This allows us to perform a restoration of your vintage diesel locomotive over a specified period of time that will fit your needs. 
The McHugh 3-foot gauge 40 / 50 ton diesel electric locomotive will meet the various requirements of traveling over lite rail systems or provide motive power for heavy tonnage trains up steep mountain grades with sharp curves. Our locomotive on tangent level track can obtain a maximum speed of 20 MPH. The units have full width cabs that provide ample space for a crew of three people to be seated during its operation.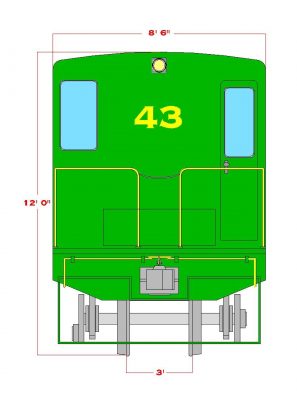 The locomotive has one Cummins 855 diesel engine rated at 335hp that is connected to a GE 558 main generator that provides electrical power for the traction motors. The locomotive has two truck assemblies that have one drive axle with a reduction gear box connected to a traction motor and one idler axle with side-rods that connect from the drive axle to the idler axle providing power to the all axles. This method to power the four axle sets is much easier to maintain that the chain drive system that is offered on other type 3-foot gauge diesel locomotives.  
Another advantage of our locomotive is that it is environmental friendly due to no chains being required to connect the drive axle and idler axles. Those chains are lubricated by oil that eventually drips and leaks onto the ground between the rails. A mechanical advantage of our side-rod locomotive is that you also resolve the issue of the chain loosening and the constant maintenance required to keep the chain properly adjusted. These issues and many others are eliminated with the McHugh 3-foot gauge diesel electric locomotive.
If you are in the market for a dependable and efficient diesel electric locomotive, be sure to contact us. We will meet with you to discuss your operational and locomotive requirements so can engineer and deliver a product that will provide you with a safe, reliable, and efficient motive power solution.